Den Start ins neue Jahr habe ich ja mit dem Umzug und der Renovierung verbracht, deswegen hatte der Start ins neue Blogjahr einen etwas holprigen Start, seit einigen Tagen jedoch bin ich jedoch wieder im Alltag angekommen. Die Wohnung ist so gut wie fertig, ein paar Kleinigkeiten müssen noch erledigt werden aber das ist ja immer so. Aus diesem Grund gab es dann auch letzten Freitag leider keinen #MusikFriday, das war aber auch die einzige Ausnahme. Es ist Freitag und die meisten von uns haben nur noch ein paar Stunden Arbeit vor der Brust bevor es ins Wochenende geht, habt ihr schon Pläne?
Ich habe für euch mal wieder ein paar Musiktipps die euch das Wochenende ein wenig versüßen sollen, bei einigen steht Hausarbeit an, wie bei mir, für die Hintergrundmusik sorgt an diesem Wochenende der Mashup-Gott Dj Schmolli, Danke an Caschy der mich damals auf ihn aufmerksam gemacht hat: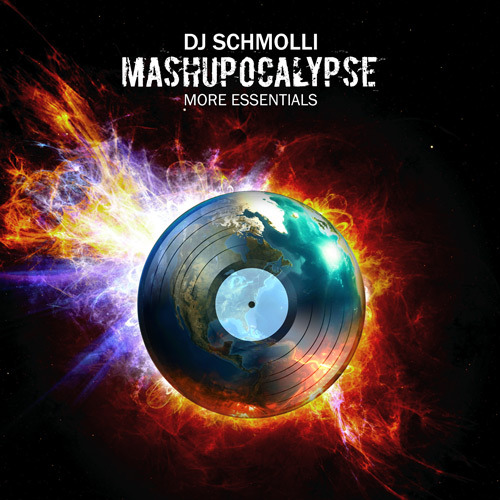 Das 41 Tracks starke Best-Of Album könnt ihr euch sogar kostenlos auf der Webseite von DJ Schmolli herunterladen. Die Tracklist spricht für sich und bedarf wohl keiner weiteren Aussage von mir:
[tabs tab1="CD 1 (Mild side)" tab2="CD 2 (Wild side)"]
[tab id=1]
01 – Perfect Love (Owl City/Calvin Harris/Erasure/Muse/Cheryl Cole/David Guetta/Maroon 5/Gossip/…)
02 – Cruelly Good Summer Feeling (Flo Rida/Avicii/Ace Of Base/Sak Noel/Jason Derulo/Stanton warriors/…)
03 – Super Bowl Anthem (LMFAO/Madonna/Europe/Queen/House Of Pain/Reel 2 Real/Tag Team/Metallica/…)
04 – Gangnam Starships Died In Zedd's Domino Arms (Nicki Minaj/Jessie J/Cutting Crew/Zedd/Psy/Heavy D)
05 – Big Booty Bitches In Miami (Bombs Away/LMFAO/Busta Rhymes/Sir Mix-A-Lot)
06 – Sweet Sweet Dreams (Eurythmics & Steve Angello/ReCover Project/Public Enemy/Cascada)
07 – Insomnia Rhythm Satisfaction (Mike Candys & Jack Holiday/Faithless/Snap/Benny Benassi/Dr. Alban/…)
08 – Titanium 500 (David Guetta ft. Sia/The Proclaimers/Midnight Oil)
09 – Payphone Lights (Ellie Goulding/Maroon 5/The Wanted/Katy Perry/Florence & The Machine/Linkin Park)
10 – Live For Somebody That I Used To Know (Jess Mills/Gotye ft. Kimbra)
11 – Playground Rocket Man (Air/Elton John/David Bowie)
12 – Just The Way You Set Fire To The Rain (Bruno Mars/Adele)
13 – Wicked Wedding (Chris Isaak/Billy Idol/HIM)
14 – Complicated Sex On Fire (Avril Lavigne/Kings Of Leon)
15 – Rebel Mother Down (Rihanna/Danzig/Billy Idol)
16 – The Trooper Believer (The Monkees/Iron Maiden)
17 – Scream Aim Dance (Bullet For Lady Gaga) (Lady Gaga/Bullet For My Valentine)
18 – Toxic geht ab! (Britney Spears/Frauenarzt & Manny Marc/2 Live Crew/Bloodhound Gang/Groove Armada/…)
19 – Kung Fu Jumping (House Of Pain/Kris Kross/Carl Douglas)
20 – In The Mood For Some Killing (Glenn Miller & His Orchestra/Rage Against The Machine)
[/tab]
[tab id=2]
01 – Rock Of Ages (Led Zeppelin/Rolling Stones/Run DMC/Chemical Brothers/Dio/AC/DC/Def Leppard/Queen/…)
02 – Shut Up Brooklyn Sandman (The Ting Tings/Beastie Boys/Metallica)
03 – Looks Like That's Alright (Travie McCoy/Mötley Crüe/Static Revenger & Richard Vission ft. Luciana/…)
04 – Rude Boy Resort (Papa Roach/Rihanna)
05 – Dancing On My Own All Night Long (AC/DC/Robyn)
06 – In-A-Gadda-Blue-Monday (New Order/Iron Butterfly)
07 – Johnny's 99 Problems (But The Pot Of Gold Ain't One) (Dropkick Murphys/Jay-Z/DJ Schmolli)
08 – American Generation (The Who/Green Day/Dead Kennedys)
09 – Dog 2 (Blur/The Stooges)
10 – Brick Halo (Paramore/Beyonce)
11 – Cooler Rock 'n' Roll (Crookers ft. Yelle/Junkie XL/Joan Jett & The Blackheart)
12 – T.N.T. Bass (Egotronic/AC/DC)
13 – No Good Cockeyed Tiger (Short Edit) (The Prodigy & Da Fresh/Survivor/Monosurround/Peaches/Pitbull/…)
14 – Cold As Superbeast Prometheus (Kraddy/Foreigner/Rob Zombie/Hellraiser)
15 – Get Up Youth (Friction/Bob Marley/P.O.D.)
16 – Du hast Sandsturm (Darude & Vaski/Rammstein)
17 – Cro – Intro (DJ Schmolli Bomb Remash) (Cro/Pigeon John/Justice & Simian/Muse/DJ Schmolli)
18 – Give It Away Bitch (The Prodigy/Red Hot Chili Peppers/Bob Marley)
19 – Drop It Like Black Sabbath (Black Sabbath/Snoop Dogg & Pharrell/Anton LaVey)
20 – Hairbangers (with Fissunix) (Kreator/Willow Smith)
21 – Mama Said Knock Out The Eternal (Cataract/LL Cool J/Michael Buffer)[/tab]
[/tabs]
Mit dem Album solltet ihr erst einmal gut versorgt sein, ich wünsche euch ein schönes Wochenende, was hört ihr momentan so für Musik?
Mashupocalypse – More Essentials